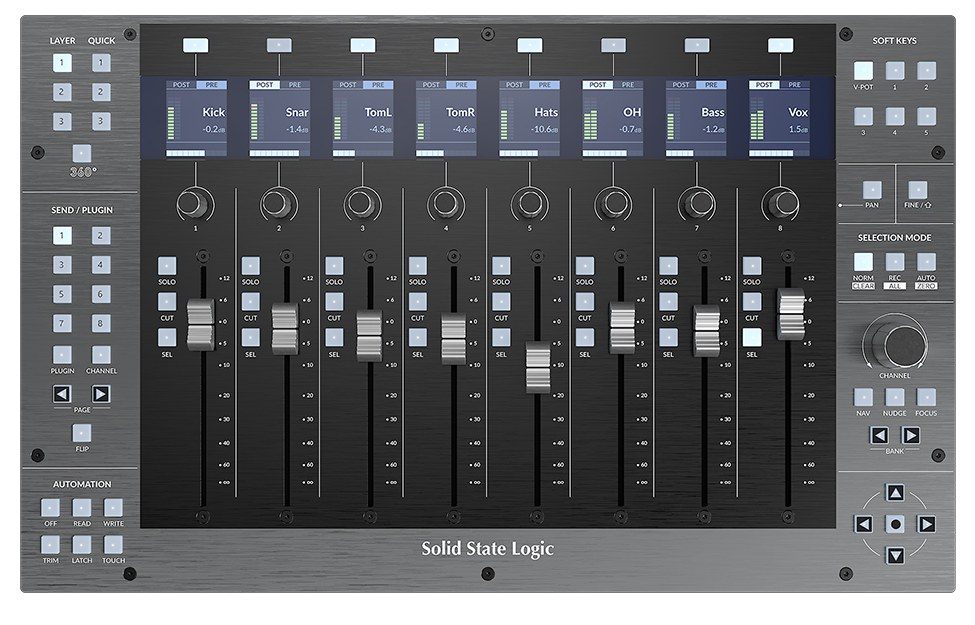 In LUNA 1.2 Universal Audio introduced MCU control. Although there is currently no dedicated profile for LUNA in SSL 360°, UA did develop and test their MCU control using a UF8 set to 'Logic Pro'.
Currently V-Pots are restricted to controlling PAN but UA plans to develop their MCU control further in the future. UA are encouraging users to use the Feedback button located in the top-right corner of the LUNA window to submit their requests for additional MCU features.
Setup
Set SSL 360° to 'Logic Pro' on a LAYER.
In LUNA go to SETTINGS > CONTROLLERS tab.
If you would like to use LUNA on LAYER 1 then do the following:
Set INPUT DEVICE to SSL V-MIDI Port 1
Set OUTPUT DEVICE to SSL V-MIDI Port 1.
Check the ON box in the left-hand column.
Functions
The current controls have been implemented by UA for their MCU control. For more detailed information, visit the UA website.
Faders
Select Keys
Mute (Cut)
Solos
Bank Keys
CHANNEL encoder in default mode banks in single channels, CHANNEL encoder in NAV mode navigates timeline.
Transport Keys - Stop, Play, Record, Cycle. Rewind goes to start, Forward goes to end
Automation Keys - Off/Read, Trim, Latch Touch (Write does not exist in LUNA)
F1 - Toggles Timeline/Mixer
F2 - Toggle Spill on Main Bus - spills all channels routed to the Main Bus across the surface
SELECTION MODE set to REC - Channels can be record armed using the SEL key. If the track type is a Bus, then the selection key will behave as a spill function (e.g. spill the tracks going to a bus across UF8).
Shift, Option/Alt, Ctrl and Command modifiers - e.g. Shift + Select to select multiple channels at once
Group - Toggles Grouping on/off.
Undo, Redo
Esc/Cancel, Return/Enter
Cycle - Loop on/off
SOLO - clears solos
MARKER - add marker
GROUP - Toggles selection grouping
Cursor Keys - Zoom vertical and horizontal or with middle button pressed prev/next track (up/down) and prev/next marker (left/right)
Multiple UF8 and Luna
There is limited compatibility between multiple UF8 and Luna.
Fader controls and panning works on Units 2, 3 and 4 But you will get no scribble strip information across these unit's.