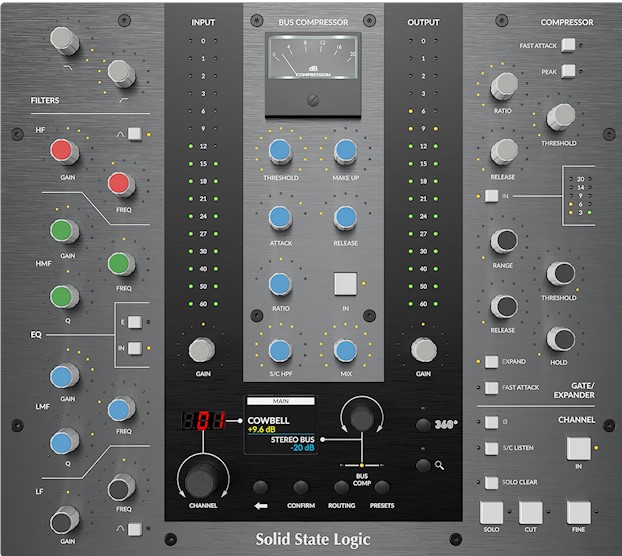 What is your Channel Strip plug-in based on?
The SSL Native Channel Strip was developed from our digital modelling of the XL9000K series console EQ and Dynamics curves. The Super Analogue circuits of the XL9000K are renowned for their extended frequency bandwidth, minimal phase shift, low-distortion and all-round punchy sound. 
Does UC1 work with my third-party SSL Plug-ins?
No. UC1, the Plug-in Mixer and the SSL Native Channel Strip 2 & Bus Compressor 2 are designed as a connected suite of hardware and software tightly integrated by the SSL 360 app. However, we are planning to add new 'flavours' of Channel Strips plug-ins in the future to expand the range. 
Does selecting a track on UF8 also select it on UC1?
No. UF8 is a HUI/MCU controller and that is how it communicates with the DAW. UC1 communicates directly with Channel Strip 2 and Bus Compressor 2 plug-ins via the SSL 360° software. However, future updates (like the Plug-in Mixer layer for UF8) will add more ways in which the products can work together. 
Do I need to have UC1 connected to use the Plug-in Mixer?
No! You can use the plug-ins and Plug-in Mixer without the UC1 hardware attached!
SOLO isn't working?
The SOLO button on Channel Strip 2  and UC1 works by cutting the output of all other Channel Strip 2 plug-ins in the DAW session. It doesn't directly control your DAW's solos.
The best way to use the SOLO feature is to place an instance of Channel Strip 2 onto all the tracks in your DAW session, ensuring to use the SOLO SAFE button is engaged on Channel Strip 2 plug-ins that are inserted on Auxes/Busses/Sub Groups. This will then enable you to use SOLO as intended.
You need to have installed SSL 360° v1.1 or above to use this feature.
Do the SOLO, CUT and SELECT keys in my DAW talk to UC1?
Solo'ing is achieved by cutting the output of all other Channel Strips in the session and the select function of the DAW is separate to the select function in the Plug-in Mixer. There are multiple ways to select a plug-in on UC1 open the Plug-in GUI use the front panel CHANNEL encoder on UC1 or click to select in the Plug-in Mixer.
AU/VST Channel Strip 2 and Bus Compressor 2 plug-ins are not showing up on UC1
In Cubase, Studio One, Live, and REAPER AU and VST plug-ins are not supported by the plug-in mixer.
Use the provided VST3 plug-in formats, as these provide the SSL 360° Plug-in Mixer with special hooks to synchronize the DAW track name and track number.The above does not apply for Logic, whereby AUs are supported in the Plug-in Mixer.