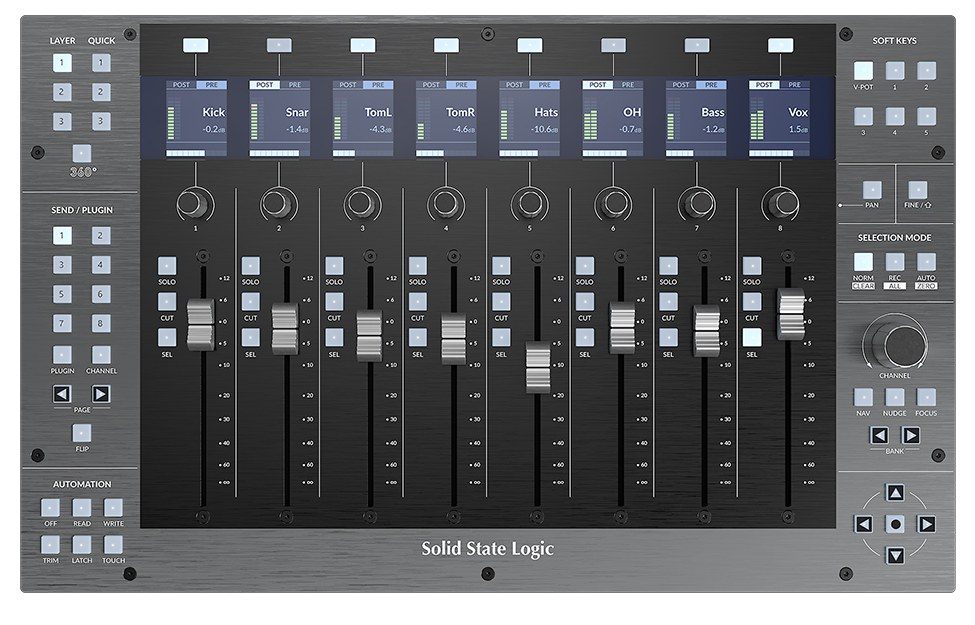 How do I turn off UF8?
The UF8 does not have a power switch.
Unplugging the power supply, or using an external power strip with a switch, are two ways you may turn off UF8.
Both of these methods are perfectly fine.
Does UF8 have a sound card or audio interface?
UF8 is a controller only and does not have a built in sound card or audio interface.
The SSL Nucleus 2 is both a controller and four channel Dante audio interface.
Can I control plug-ins from UF8?
Yes, any plug-in in the DAW can be controlled across the V-Pots (or faders with MCU DAWs). You can also control plug-ins that support mouse scroll, using the CHANNEL encoder in FOCUS mode.
SSL 2 and UF8 USB pass-through
The UF8 USB pass-through does not provide enough current to run audio interfaces. It is for peripherals like mouse, keyboard, or iLok.
Please connect SSL 2 directly to your computer or powered USB hub.
Tested USB Hubs
These hubs have been tested with SSL equipment
Anker 4-Port Ultra Slim USB 3.0 Data Hub
Caldigit Element Thunderbolt 4 | USB 4 Hub
USB cable lengths and UF8
USB 2.0 specifies a maximum length of 5 meters (16 feet).
Beyond that length you must use a powered hub or extender.
SSL provide 1.5 meter (5 foot) USB cables with the UF8.
Does UF8 have DAW Transport buttons?
Yes, The 5 cursor keys in the bottom right hand corner can be set to work as transport controls by pressing and holding the CHANNEL encoder. Also every DAW profile has them pre-assigned within User Bank 1, to the first 5 soft keys along the top of UF8. These can be assigned to other soft keys by the user.
Metering and clip/overload indicators getting stuck
When banking channels, sometimes metering and clip indicators can get stuck
When navigating the channels on the surface, if no audio is passing then in some cases metering or clip indicators can get stuck. This is a bug inherited from the MCU and HUI protocols.
UF8 and Sigma
Delta Control plug-ins can be controlled (as can all plug-ins) via MCU from UF8.
The Delta Control plug-in in turn will control Sigma.
Please see the DAW setup guide section in the Sigma Delta manual for guidance on Control Surface setup.
Please note UF8 does not have a dedicated Sigma profile like Nucleus 2, but the above method will work to control Sigma indirectly.